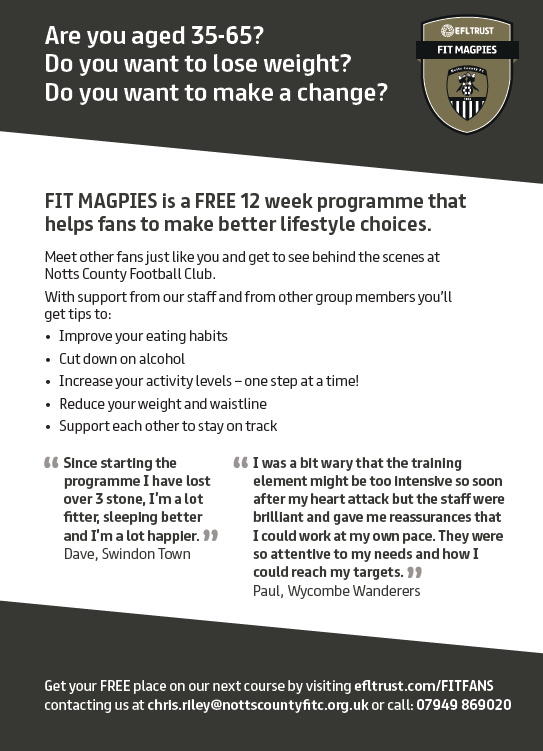 FIT FANS / FIT MAGPIES - 22nd September 2021
FIT Magpies is a free weight management project looking to tackle physical inactivity and obesity in adults within Nottingham with behaviour change being at the core of the programme.
The project is open to males and females looking to lose weight, get fitter and improve their lifestyle.
Participants are supported through their journey by a qualified and dedicated team of coaches who ensure every person feels included, motivated, and empowered to reach their targets.
Each 90-minute session includes a physical activity session that introduces all participants to simple, effective ways of exercising (e.g. walking football, circuit training, aerobics, group walks etc.) some of which they can continue in their own time.
Classroom sessions cover relevant topics such as the Eatwell Guide, take-aways, alcohol, portion sizes, and food labels. Participants receive a workbook that enables them to set targets, review their progress, and highlights areas for further reading.
More information at: www.efltrust.com/fitfans/
Hucknall In-Community Health and Wellbeing Hub Feedback Survey - 21st September 2021
From NHS Nottingham and Nottinghamshire CCG
Hucknall In-Community Health and Wellbeing Hub Feedback Survey

Health and Social Care partners who deliver health and care services in Hucknall (GPs, local councils, voluntary organisations and other interested groups) are asking for feedback from the local population to help shape the future health and social care provision locally. NHS Nottingham and Nottinghamshire CCG are coordinating and will analyse the survey on behalf of all partners.
We are asking local residents, carers, communities and members of the public in Hucknall to share their thoughts and feedback about the Hucknall In Community Health and Wellbeing Hub. The hub would host a range of services all under one roof helping to prevent illness and encourage people to live longer healthier lives. By sharing your ideas you can help shape the services in your area to ensure that the hub will meet the requirements / needs of the local people and have the right facilities to do so.
This survey will run from Monday 20 September 2021 up to and including Monday 4 October 2021. This survey is available online but should you require paper copies of the survey please contact Katie Swinburn at Katie.swinburn@nhs.net or call or text 07385 360071.
Any information provided within this survey and relating to the Hucknall In Community Health and Wellbeing Project will not be shared with any other organisations (who are not a partner) and will remain confidential.
To request this information in another language or format please contact the Engagement Team at: nnccg.team.engagement@nhs.net or call or text 07385 360071. If texting or leaving a message please provide your contact details and a member of the team will get back to you.
Flu 2021 - Thursday 26th August 2021
We are now booking appointments for this year's flu vaccine!
You are eligible for a free NHS flu vaccine if:
are 50 and over (including those who'll be 50 by 31 March 2022)
have certain health conditions
are pregnant
are in long-stay residential care
receive a carer's allowance, or are the main carer for an older or disabled person who may be at risk if you get sick
live with someone who is more likely to get infections (such as someone who has HIV, has had a transplant or is having certain treatments for cancer, lupus or rheumatoid arthritis)
frontline health or social care workers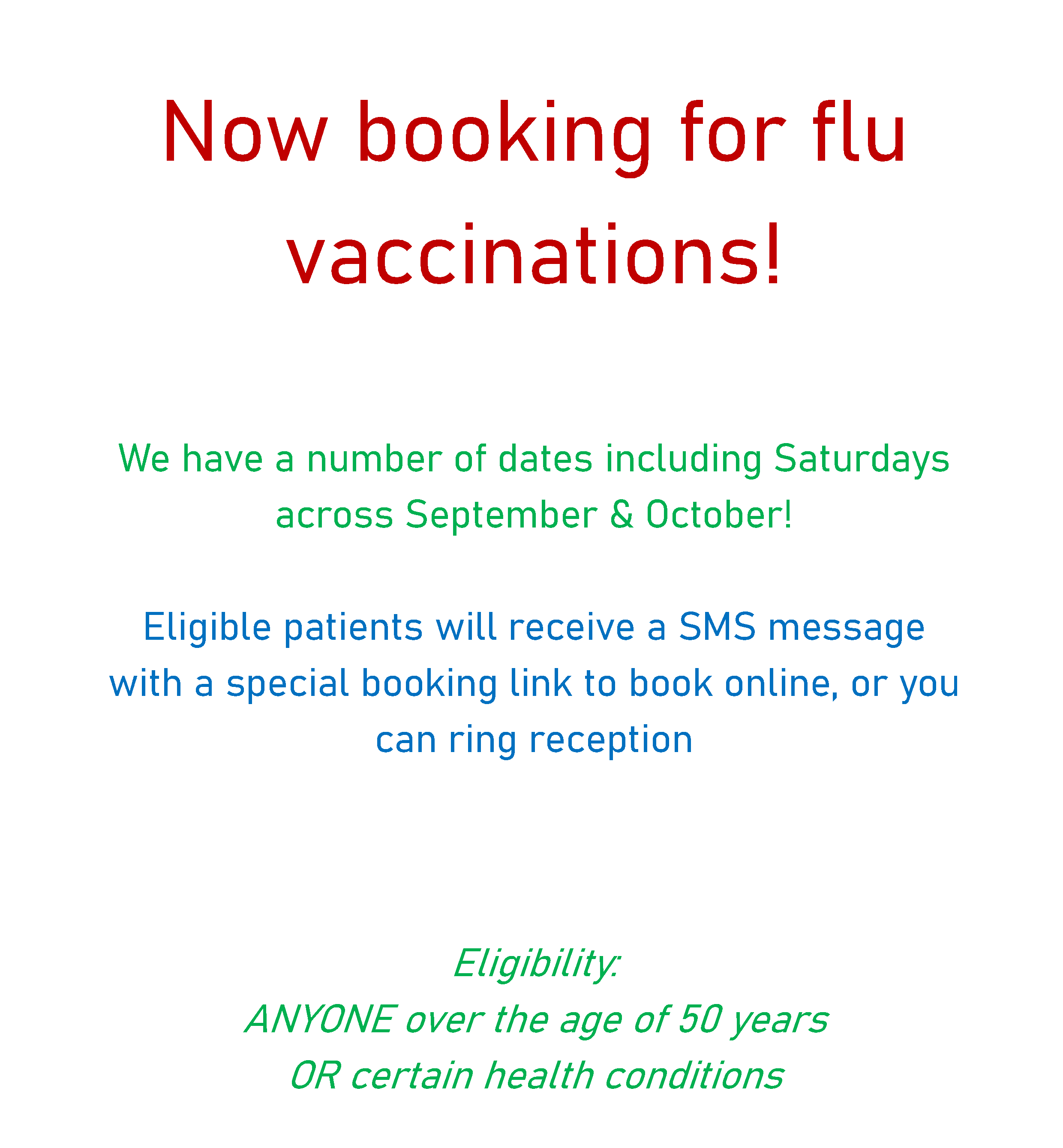 Covid vaccines for 16 and 17 year olds - 18th August 2021
An update on how the NHS uses patient data - 6th August 2021
NHS Digital has delayed their plan to extract GP data for Research purposes, because they want to review the way the data will be collected, to conduct more public involvement and information about the plans, and change the way in which patients can opt out of the extract of their GP data if they choose to do so.
We will update you when we know more about their plans, and any updates about to change how you can control who has access to your data.
Planned Closure - Thursday 22nd July 2021
The practice will be closed in the afternoon (from 12:30pm) on Thursday 22nd July, for staff training. We will be open again from Friday 23rd July from 08:00am.
If you need urgent medical advice during this time, please ring 111, visit NHS 111 Online https://111.nhs.uk/ or, if an emergency, ring 999.
An important update about Covid 19 rules and face coverings - 19th July 2021
Covid 19 rules are changing from the 19th July.
Please remember that we will often have the most vulnerable people inside our practice, including patients with Covid 19, cancer, and chronic lung disease. For some, Covid 19 could make them extremely poorly, or worse.
When visiting the practice, please continue to wear a face covering, wash your hands, and maintain social distancing.
The Alpha Trial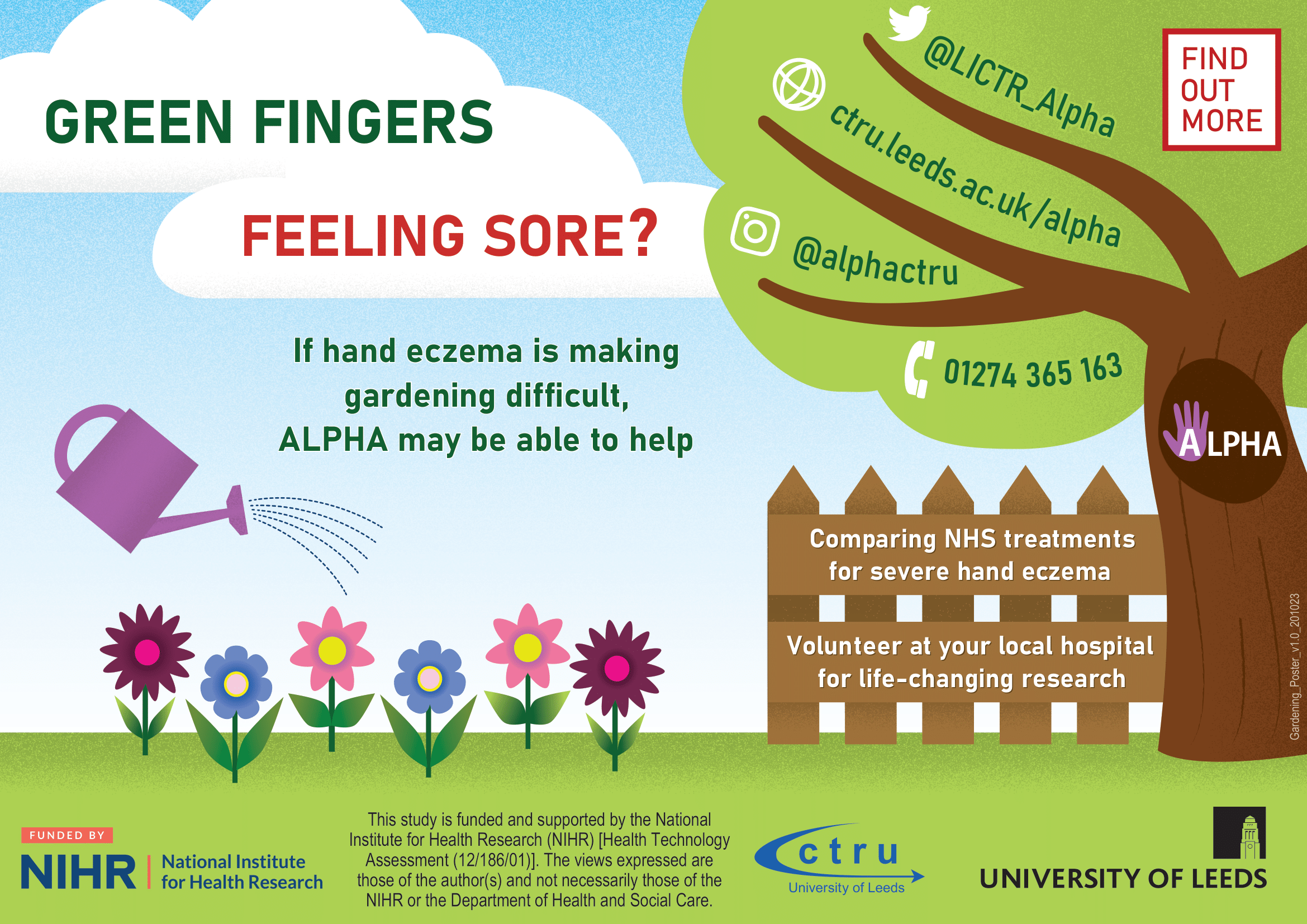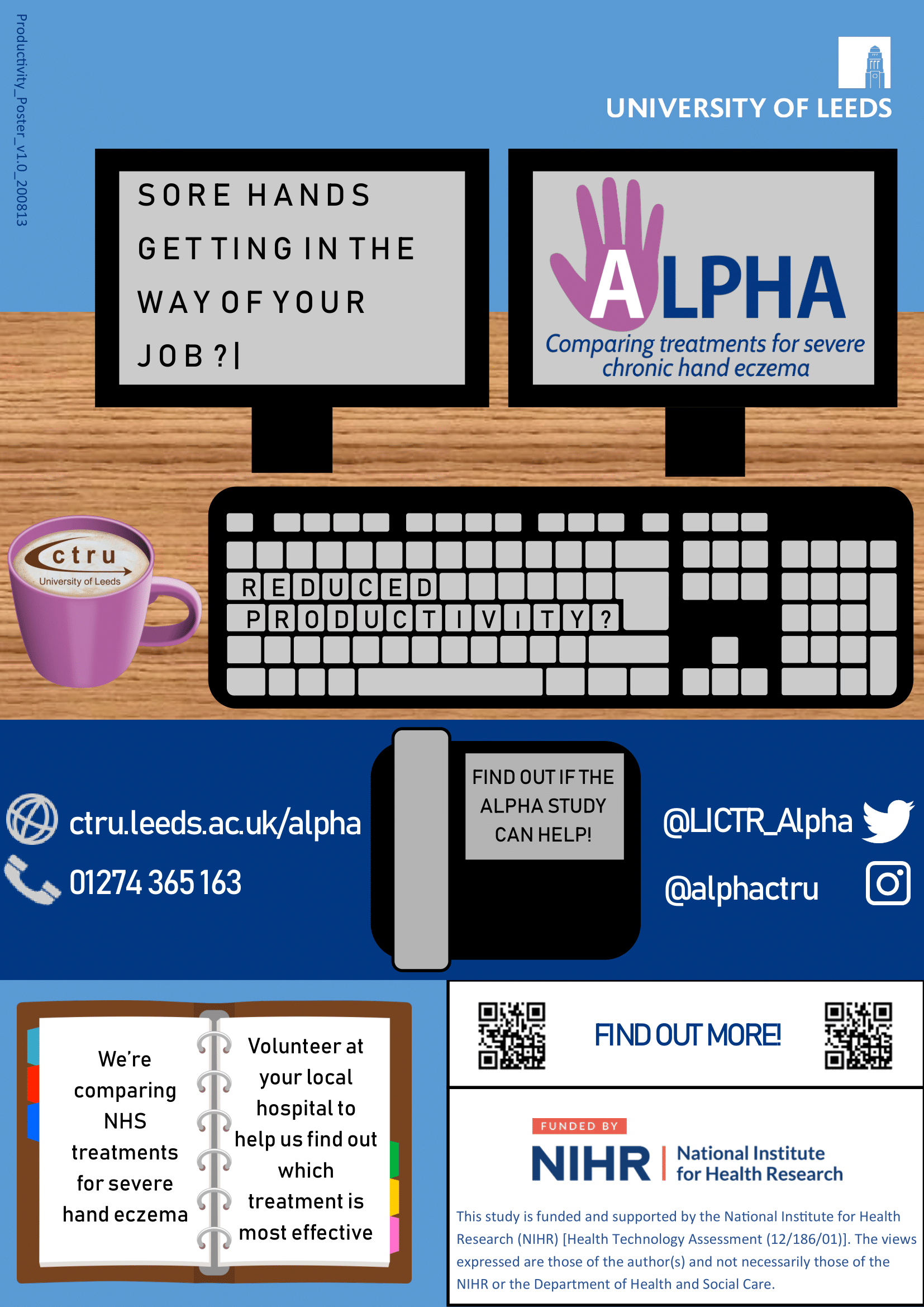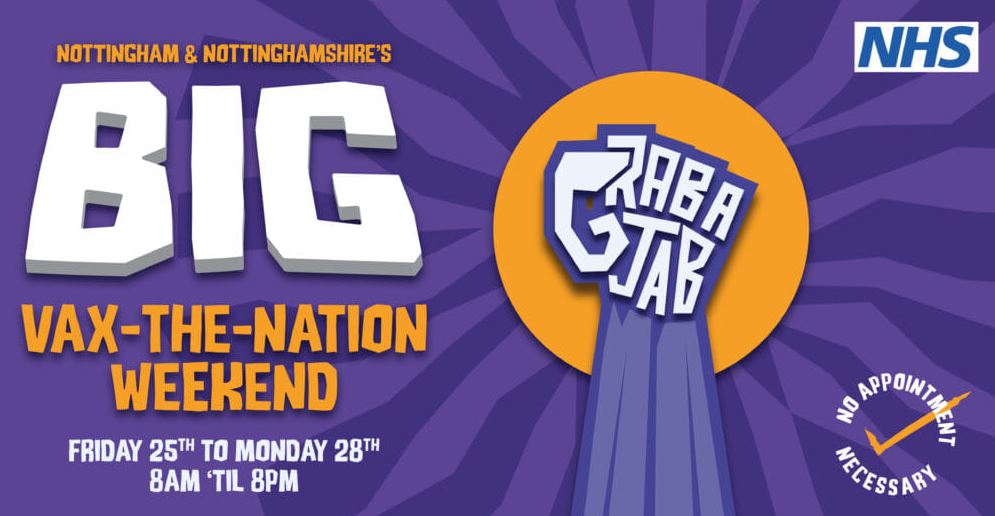 NOTTINGHAMSHIRE'S VAX-THE-NATION WEEKEND - 25th to 28th June 2021
Walk-in Covid-19 jabs for all adults will be available from Friday 25 – Monday 28 June in Nottingham and Nottinghamshire, where all eligible adults can come and grab a first or second jab (if your 1st jab was on or before 30th April) from 8am-8pm.
Available at: Gamston Community Hall, Forest Recreation Ground, King's Meadow Campus, Richard Herrod Centre, Newark Showground, Ashfield Health Village, Mansfield Wickes site, King's Mill Hospital Vaccination Hub and Queen's Medical Centre.
#GrabAJab #ImGettingTheVaccine
Happy Nurses' Day - 12th May 2021
Our outstanding nursing team have, during the most challenging of years, delivered
the largest flu vaccine programme ever
Covid 19 vaccines for housebound and care homes
vital drug monitoring and chronic disease management
worked hard to avoid patients needing to attend the hospital
responded to the rapidly changing environment during lockdowns
Happy Retirement Carol! 31st March 2021
We wish our amazing secretary, Carol Watkins, a very happy retirement!
Carol has worked at Torkard Hill for over 30 years. Her contribution to the practice, local community, and the NHS has been outstanding.
From all your colleagues - it has been our privilege to work with you - thank you!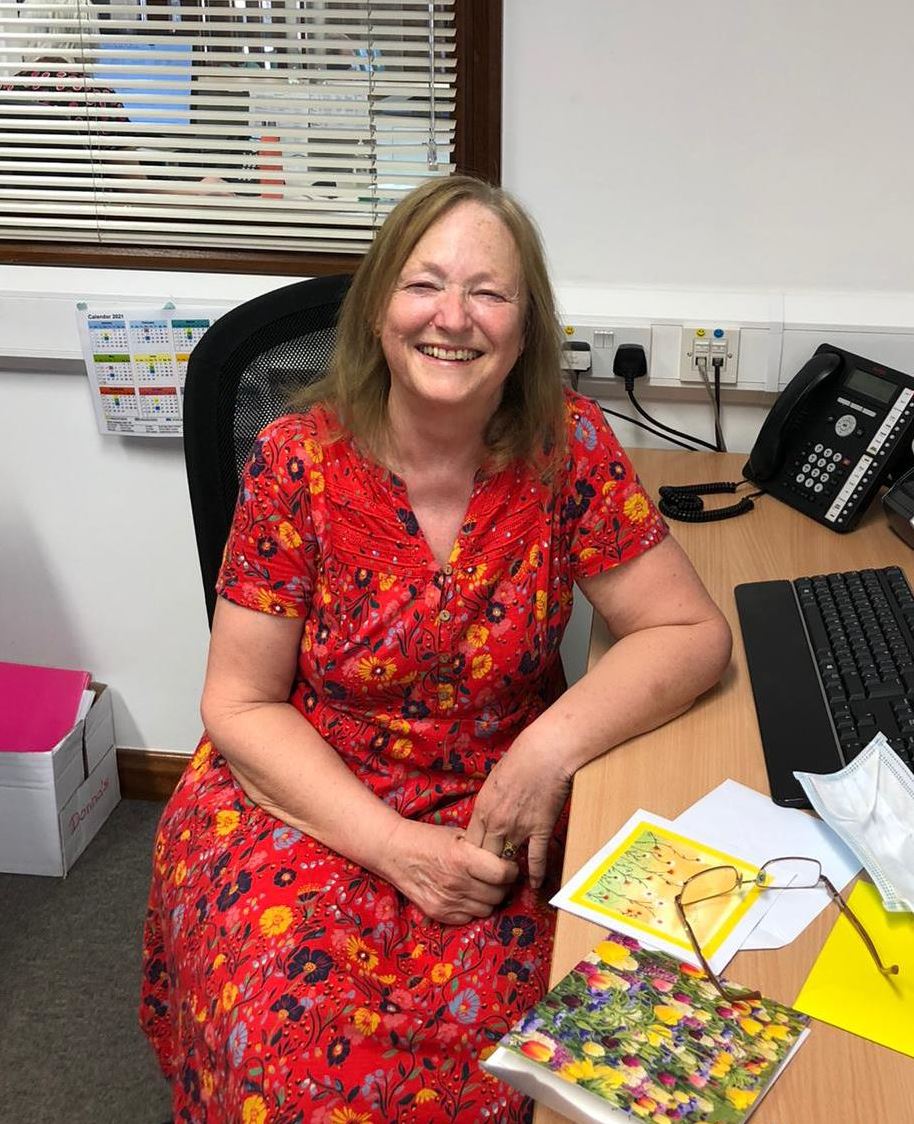 Research for 2021/2022 - 10th March 2021
We are pleased to announce, we are yet again, to be a Level 3 research practice for 2021/2022.
This means we will be involved in at least 8 research projects over the forthcoming coming year - and one of only a handful in Nottinghamshire to be awarded this.
More information about research at our practice can be found at: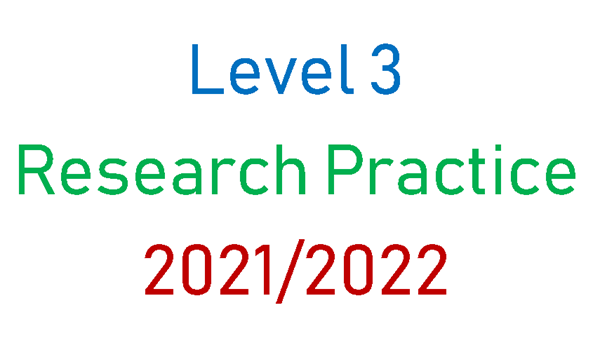 Vaccinating our housebound patients #VaccineFriday - 12th February 2021
1 day
1 vaccine
77 home visits
1 great team #TeamTorkard
We are pleased that we have now offered & vaccinated all our over 70yo housebound, and majority of younger housebound! A fantastic multidisciplinary effort!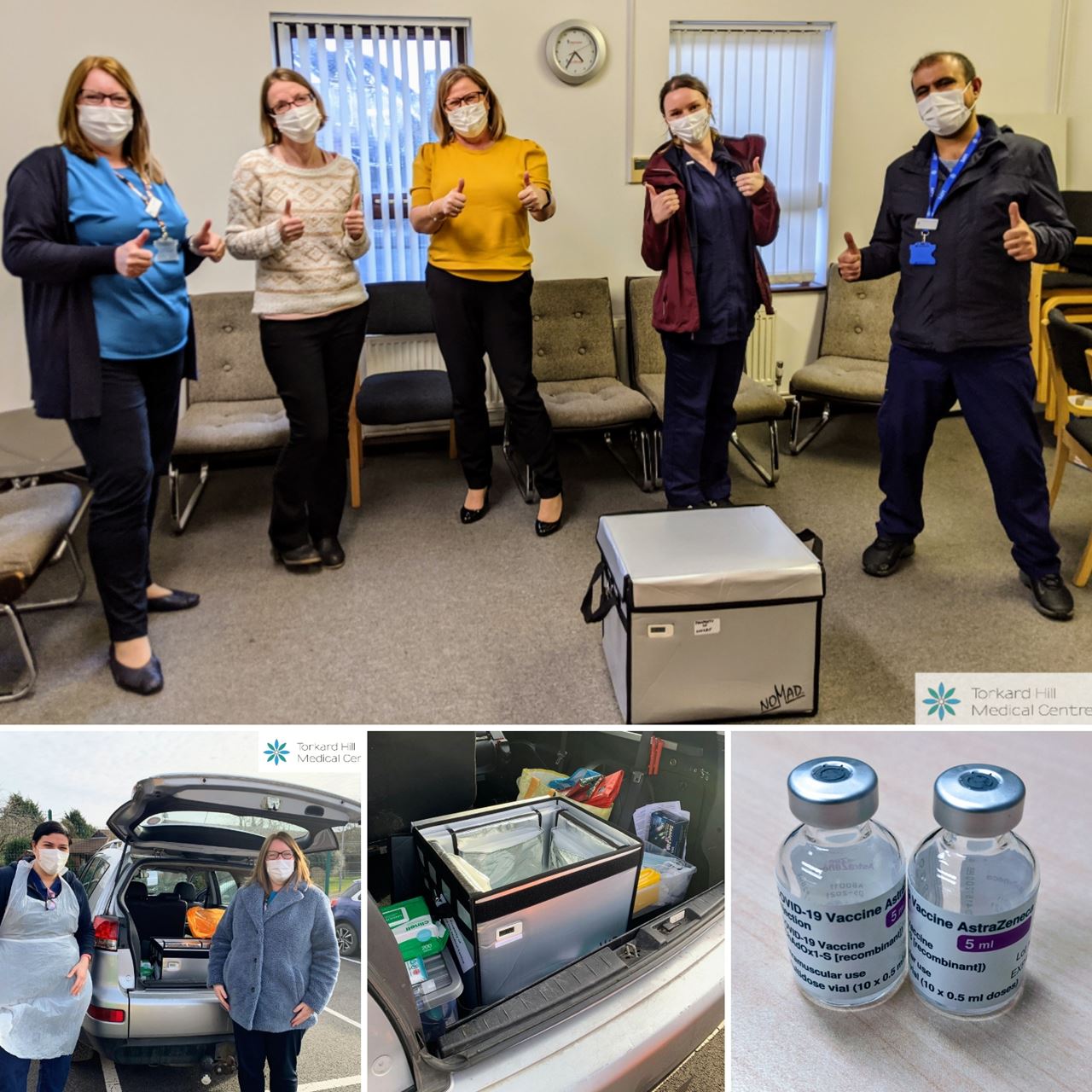 Covid 19 Vaccine
We are incredibly excited about the development of Covid vaccines. The NHS will be developing a local vaccination plan, and prioritise highest risk groups first.
Please do not contact us, or the local hospitals, about the vaccine. The NHS will contact you directly either by phone, text or letter, when it is your turn.
Please follow our Facebook page facebook.com/OfficialTorkardHill for the latest and most up to date information.
Vaccinating our care homes #VaccineFriday - 22nd January 2021
A huge thanks to everyone in our #TeamTorkard vaccination team!
A monumental effort to vaccinate residents and staff at three care homes. Thank you to all the staff and residents at Buddleia House, Hazelgrove, and Sherwood House for supporting and welcoming us.
Proud and privileged to have been able to vaccinate some of our most vulnerable patients and incredible care home colleagues.
#CovidVaccine #ImGettingTheVaccine
Changes to prescriptions for OTC (Over The Counter) medication
Prescribing of over the counter medicines has changed. Your GP, nurse or pharmacist will no longer give you a prescription for over the counter medicines for a range of minor health concerns.
Instead, over the counter medicines are available to buy in a pharmacy or supermarket.
This is also the case, even if you currently get your prescriptions for "free".
The team of health professionals at your local pharmacy can offer help and clinical advice to manage minor health concerns and if your symptoms suggest it's more serious, they'll ensure you get the care you need.
Please help the #NHS to use resources sensibly.
More information can be found on: www.nhs.uk/otcmedicines
Flu Vaccination Clinics 2020
If you are attending a flu vaccination clinic, please kindly follow the advice below:
Please ensure you have an appointment (no walk ins) and arrive at your appointed time
Please arrive at the back entrance of the practice - do not use the normal front entrance. This is clearly marked.
Please wear a face covering and adhere to social distancing
Please follow the one way signs and listen to the advice of staff
Please be aware this is a special flu-only clinic. We are unable to carry out GP/nurse consultations and admin tasks on the day
Please be patient with us
Keeping you safe and vaccinated for the winter!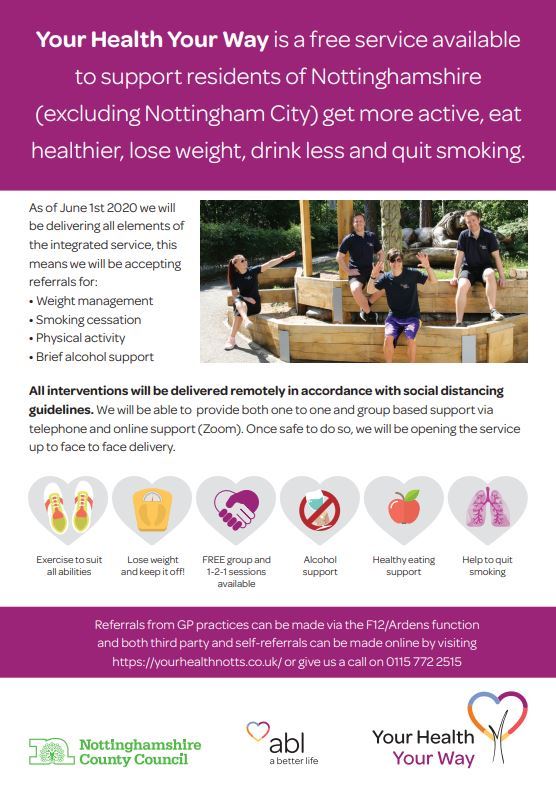 Covid 19 information page and FAQs
Mental Health during Covid 19
It's okay to not be okay. Please don't struggle alone.
Call the Nottinghamshire Mental Health advice line on 0300 555 0730, 9am-11pm, 7 days a week.
In a mental health crisis? Please call 0808 196 3779 available 24/7.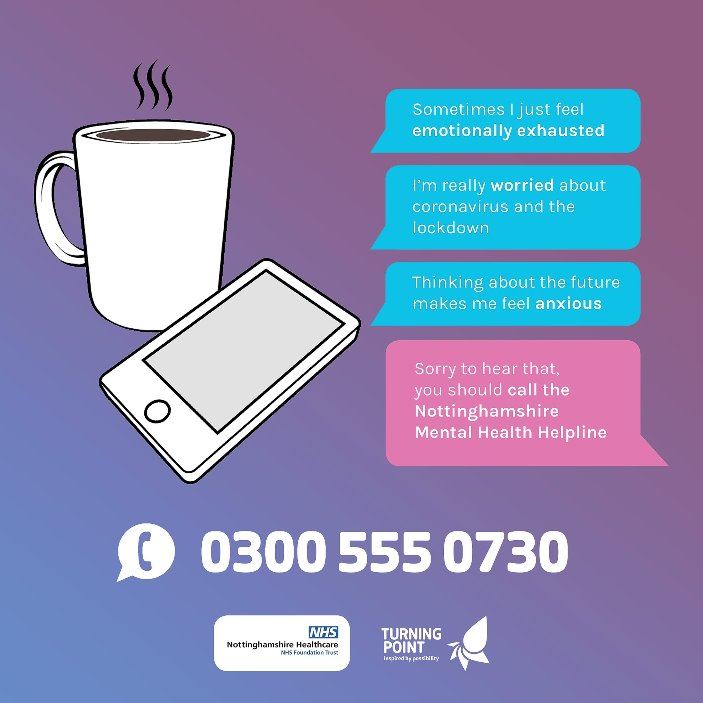 A cervical smear test takes 5 minutes, but the impact of cervical cancer can last for life
Many people are nervous about going for cervical screening (a smear test), but our staff are here to help if you feel this way.
Cervical screening (a smear test) checks the health of your cervix. The cervix is the opening to your womb from your vagina. It's not a test for cancer; it's a test to help prevent cancer.
All women with a cervix aged 25 to 64 should be invited by letter. During the screening appointment, a small sample of cells will be taken from your cervix. The sample is then tested for changes to the cells of your cervix. Finding abnormal changes early means they can be monitored or treated so they do not get a chance to turn into cervical cancer. You'll get your results by letter, usually in about 4-6 weeks.
Cervical screening may check for:
abnormal cell changes in your cervix – left untreated, this could turn into cancer
Human Papilloma Virus ( HPV) – some types of HPV can lead to cell changes in your cervix and cancer
Try not to put off cervical screening. It's one of the best ways to protect yourself from cervical cancer.
Want to know more? Feel free to contact us to discuss further with a clinician of your choice, or visit Jo's cervical cancer trust helpline on 0808 802 8000 or website www.jostrust.org.uk
Further information is also available at https://www.nhs.uk/conditions/cervical-screening/
The Principle study
We know that he risk of complications from suspected COVID-19 coronavirus infection is generally greater in people aged 50 years and older with underlying health conditions, and in those aged 65 years and older. The infection is having a significant impact on people's health, and society in the UK and internationally. So far, there are no specific treatments for COVID-19 that have been proven in well conducted clinical trials to be effective. Most cases of probable COVID-19 infections are being managed in the community. An ideal treatment for patients with suspected COVID-19 infection in the community would be one that is safe, with few side-effects, can be provided by existing NHS services, and helps patients recover quicker and without having to go to hospital.
Setting up a new clinical trial for each potential treatment that becomes available is particularly time consuming and costly. The Principle trial will be flexible and allow for further treatments to be added into the trial while the study is already in progress. This means that a new trial does not need to be started afresh each time an additional suitable treatment becomes available.
The overall goal is to find treatments as quickly as possible that will help affected people recover sooner, and avoid the need for hospital admission.
Want to know more: Read attached Document
Research
The practice team at Torkard Hill Medical Centre have significantly contributed towards primary care research for a number of years through our Research Scheme to successfully deliver a number of studies in various medical areas. This year they applied for a higher level and were successful, which is fantastic news as 22 surgeries across the East Midlands applied for this level and Torkard Hill was one of 8 that were successful with 6 out of the 8 from Nottinghamshire which is great news for our region.
We thank them for all their hard work over the years and we also thank all of you who have participated in the studies as research could not happen without you. If any of you are interested in getting involved in studies please contact your surgery.
More information about research can be found on our research pages: