Appointments System
The types of appointments we offer are:
Telephone triage - If you feel your problem cannot wait until the next routine appointment, we now offer a system whereby you can speak to a GP on the phone who will decide the best / most appropriate way of dealing with your problem. Emergency consultations will be seen the same day by the Duty Doctor. Please be aware there may be a wait to see the Duty Doctor particularly if they have been called away on an emergency home visit.
Face to face ten minute
Routine telephone calls
Nurses and Healthcare Assistant (HCA) appointments are available in advance for routine booking. Nurses and HCAS are seeing patients both face to face and offering telephone consultations.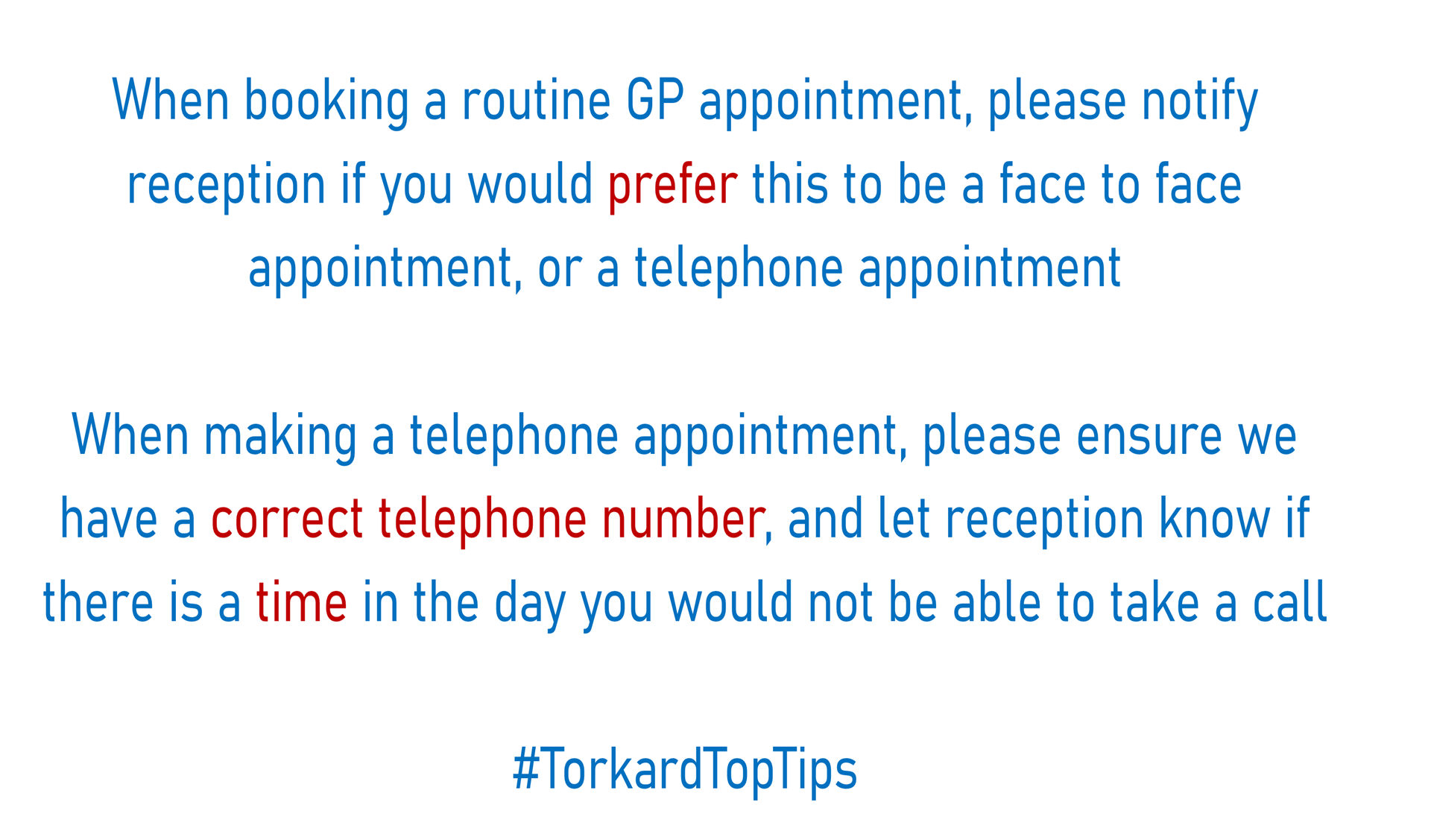 How to Book
To book appointments patients can:
telephone between the hours of 08:30 and 18:30, Monday to Friday.
access to book on line (ask at reception for a password)
call into the surgery (please avoid during Covid pandemic)
The receptionists will inform you when any of the doctors' surgeries are running late.
Online Booking
Appointments to see a doctor, but not a nurse, can be booked over the internet once you have registered to the service – ask at reception for details (currently suspend due to Covid pancemic).
GP Availability
GP Appointments
Dr Dalton is available on Monday, Tuesday, Wednesday & Friday
Dr French is available on Monday, Wednesday & Thursday
Dr Bilkhu is available Monday, Wednesday, Thursday, Friday
Dr Brodie is available Monday, Tuesday, Wednesday, Friday
Dr Kachhala is available Monday, Tuesday, Wednesday & Thursday
Dr Abdel-Salam is available Tuesday, Wednesday & Friday
Dr Alva is available Monday, Tuesday, Wednesday & Thursday
We also have a number of junior doctors available for consultation.
Please ask the receptionist for individual surgery times as these can vary.
Extended Access
Extra evening and weekend appointments available in local area
You can now book routine GP and Nurse appointments in the evening, at weekends and over bank holidays in your local area.
Pre-bookable appointments are available Monday-Friday, 18:30 – 20:00, plus weekends and bank holidays and you can be seen by a GP, Nurse or Healthcare Assistant.
To book your appointment, contact the surgery during normal opening hours. Please be aware that the appointment may take place at another GP Practice in the area.
If you need urgent medical advice when the surgery is closed, you should continue to call NHS 111.
Continuity of Care
This information advises you how best to see the doctor that you want and whether you should see a doctor or a nurse.
Sometimes you may feel this doesn't matter, but for long standing problems or those that are new and under investigation it may be best to see the same one or 2 doctors if possible.
Planning Appointments - Should allow you to choose the doctor you want to see. If you ask to see a doctor urgently it can be more difficult to see a particular doctor as these appointments are given with the first available doctor. Many doctors are not in every day. If the problem can wait a few days you have more chance of choosing your doctor.
The practice nurses can care for and follow up most long-term conditions, and can involve the doctor in any treatment decisions.
Please, only see the doctor for things that need the doctor. Other health care professionals in the practice can see you for a variety of problems or procedures. This helps make doctors more available to see patients for illness.
The practice nurses will see you for:
Contraception checks, smoking cessation, travel vaccinations, routine checks for asthma/COPD, heart, stroke and diabetes as well as the normal wounds, dressings, stitches, cervical smears, coil checks, ear syringing, sexual health swabs, new patient checks, ECGs.
Let the receptionist know and they can make your appointment with the correct person.
When you make a nurse appointment you will be asked what the appointment is for. This is just to ensure that you will see a nurse who can provide the service you need.
The Health Care Assistants will see you for:
All blood tests, blood pressure checks, ECG, urine tests, new patient medicals.
Home Visits
Whilst we encourage our patients to come to the surgery, where we have the proper equipment and facilities available, we do appreciate this is not always possible. In this respect, if you do need a home visit, you can help us by calling reception before 10:30.
You may only request a home visit if you are housebound or are too ill to visit the practice. Your GP will only visit you at home if they think that your medical condition requires it and will also decide how urgently a visit is needed. Please bear this in mind and be prepared to provide suitable details to enable the doctor to schedule house calls
You can also be visited at home by a community nurse if you are referred by your GP.
Cancellations & Reminders
Cancel an Appointment
If you have online access: SystemOne
Please use the link to cancel
If you do not have online access please call the surgery on 0115 9633676, option one then option three.
Late For Your Appointment
Please attend your appointment on time, if you are late you may not be seen. If you are not seen you will not be able to rearrange your appointment until the next working day-except in the event of an medical emergency that requires immediate attention.
Appointments to see a junior doctor and medical student
Torkard Hill Medical Centre is an approved training practice for junior doctors and medical students.
You can book to book an appointment to see a junior doctor, who will be supervised by a GP.
You find more information here