Repeat Prescriptions
The practice is not a dispensing practice.
Patients can order online, NHS App, hand their repeat prescription slip to the receptionists, post, or if necessary send a stamped addressed envelope – ask at reception for details.
If you request your repeat prescription by writing to us you must include your name, your address, your date of birth, how you would like to collect your prescription and a full list of items required.
Alternatively you can order online via the link at the top of this page. New users to the service are required to complete a simple registration.
We are sorry that repeat prescriptions cannot be taken over the telephone. This avoids the possibility of mistakes and also leaves the lines open for appointments and emergencies. Plan ahead to avoid running out. If you do not have a repeat prescription computer slip ask at reception for one (as repeat prescriptions will not normally be dispensed without one).
Order your medication with the NHS App
You can order your repeat prescription quickly, safely and easily via the NHS App.
It also has a host of other helpful features!
Download at: www.nottsnhsapp.nhs.uk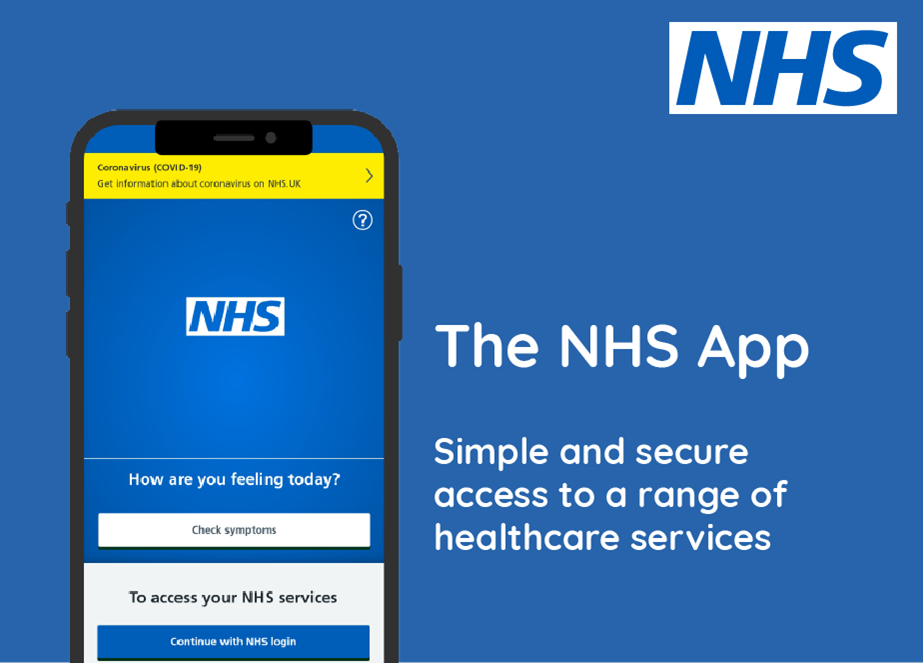 Prescriptions recommended by a clinic or hospital
Doctors and practice pharmacists will only prescribe medication that has been recommended by a clinic or hospital, if they have received a written confirmation for this. On receipt of written confrimation, it may take 2 working days to process. It is up to the clinic/hospital and you to ensure this written information is communicated to us in a timely fashion.
Hospitals and clinics are obliged to issue emergency medication; they should not be asking the practice to prescribe this on their behalf.
Some medication can never be prescribed by your GP - these are "red drugs" and are usually specialist-only treatments. Some medication may be prescribed, only after the clinic or hospital has started it and following which, have given the practice clear, written instructions about contunuing it.
Changes to Over The Counter (OTC) medication
Guidance has now changed and we will no longer be prescribing medication that is available OTC
Your GP, nurse or pharmacist will not generally give you a prescription for over the counter medicines for a range of minor health concerns. Instead, over the counter medicines are available to buy in a pharmacy or supermarket in your local community.
THIS IS ALSO THE CASE EVEN IF YOU DO NOT PAY FOR PRESCRIPTIONS
More information can be found here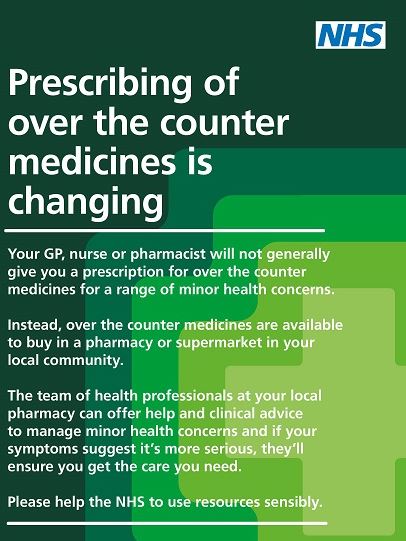 Messages on your prescription
If you are on regular repeat medication, please do take a careful look at your prescription each month.
Sometimes we will include a message for you, for example if you are due a blood test to monitor you treatment, or if the medication is due for review with a doctor, nurse or pharmacist.
The message may be in the "directions" box, or on the right hand side repeat ordering slip.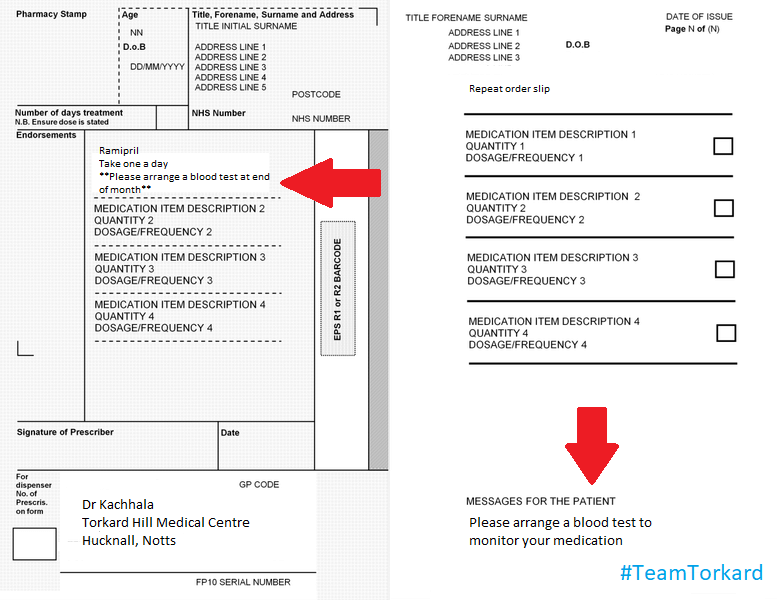 Medication Reviews
Patients on repeat medication will need an annual review, usually done by their doctor or practice pharmacist. You will know when you're medication is due for review as a notification should appear on your repeat slip.
Please ensure that you book an appropriate appointment to avoid unnecessary delays to further prescriptions.
Local pharmacies
There are a number of pharmacies in Hucknall and surrounding areas.
You can find your nearest here: https://www.nhs.uk/service-search/find-a-pharmacy/
Please note, Lloyds Pharmacy is NOT affiliated to the practice. You are free to choose any pharmacy.
The Electronic Prescribing Service means your prescription is now sent directly to the chemist of your choice.
Some of the local chemists offer a collection and delivery service for repeat prescriptions. If you use this service please allow 4-5 working days for your prescription to be processed.
Prescription Fees
Help with NHS costs
In England, around 90% of prescription items are dispensed free. This includes exemptions from charging for those on low incomes, such as:
those on specific benefits or through the NHS Low Income Scheme
those who are age exempt
those with certain medical conditions
More information is available at NHS Choices
NHS Charges
These charges apply in England only. In Northern Ireland, Scotland and Wales prescriptions are free of charge.
Prescription (per item): £9.35
12-month prepayment certificate (PPC): £108.10
3-month PPC: £30.25
If you will have to pay for four or more prescription items in three months or more than 14 items in 12 months, you may find it cheaper to buy a PPC.
Telephone advice and order line 0845 850 0030
General Public - Buy or Renew a PPC On-line
There is further information about prescription exemptions and fees on the NHS website.