Asthma at Torkard Hill
Patients with asthma are looked after by the practice multidisciplinary team; lead by our fantastic nursing team who have undertaken additional training in asthma, with input from your GP.
Each year, you will be called for your asthma review, where we will check your inhalers, inhaler technique, ask questions to check how well your asthma is controlled, and review your medication.
Keeping up to date with your asthma reviews reduces the risk of having frequent asthma attacks, picking up infections, and admissions to hospital.
If you think you asthma has rapidly worsened, called an "exacerbation", please follow the guidance on your asthma plan (see below).
What is asthma?
Asthma is a long-term condition that affects your airway and lungs.
It causes symptoms such as coughing, wheezing and breathlessness.
Your annual asthma review
Your nurse will check your inhalers and measure your peak flow. They will also ask you a few questions, including:
Do you smoke?
Does your asthma affect your sleep?
Does your asthma affect you during the day?
Does your asthma affect your activities?
How many times has your asthma "exacerbated" in the past year?
Have you had to see your doctor, nurse, or visit the hospital, in the past year?
We usually would recommend having an additional review with the asthma nurse if you have recently had an exacerbation of asthma.
Asthma Plan
Every adult and child with asthma should have an asthma plan.
This plan will support you to manage your asthma better, especially if you're having an asthma attack.
Peak Flow
Your peak flow rate is imortant to understand how well your asthma is controlled.
It can often be the first sign that things are not going well; such as an infection.
Doctors and nurses will often ask you what your peak flow rate currently is, and what it normally is. We use this to assess severity and who/how best manage you.
You should have a peak flow meter - if not, please ask for a prescription. You only need the one and it's yours.
Inhalers: Ventolin / Salbutamol
This is the most frequently prescribed inhaler, often used as a "reliever"; you will normally be recommended to use it when you feel wheezy and breathless.
Inhalers: Fostair
Fostair a common "preventer inhaler" that is used regularly, every day, to help control symptoms of asthma.
Spacers
We recommend using a spacer in conjuction with some inhalers. Spacers are fantastic, because they:
may mean you can use less medicine
reduces the risk of side effects
make it easier to use an inhaler, especially in children
You can also attach an infant, child, or adult facemask to it, for further ease.
We usually would prescribe a spacer called Aerochamber - please check out the video to see how to use it!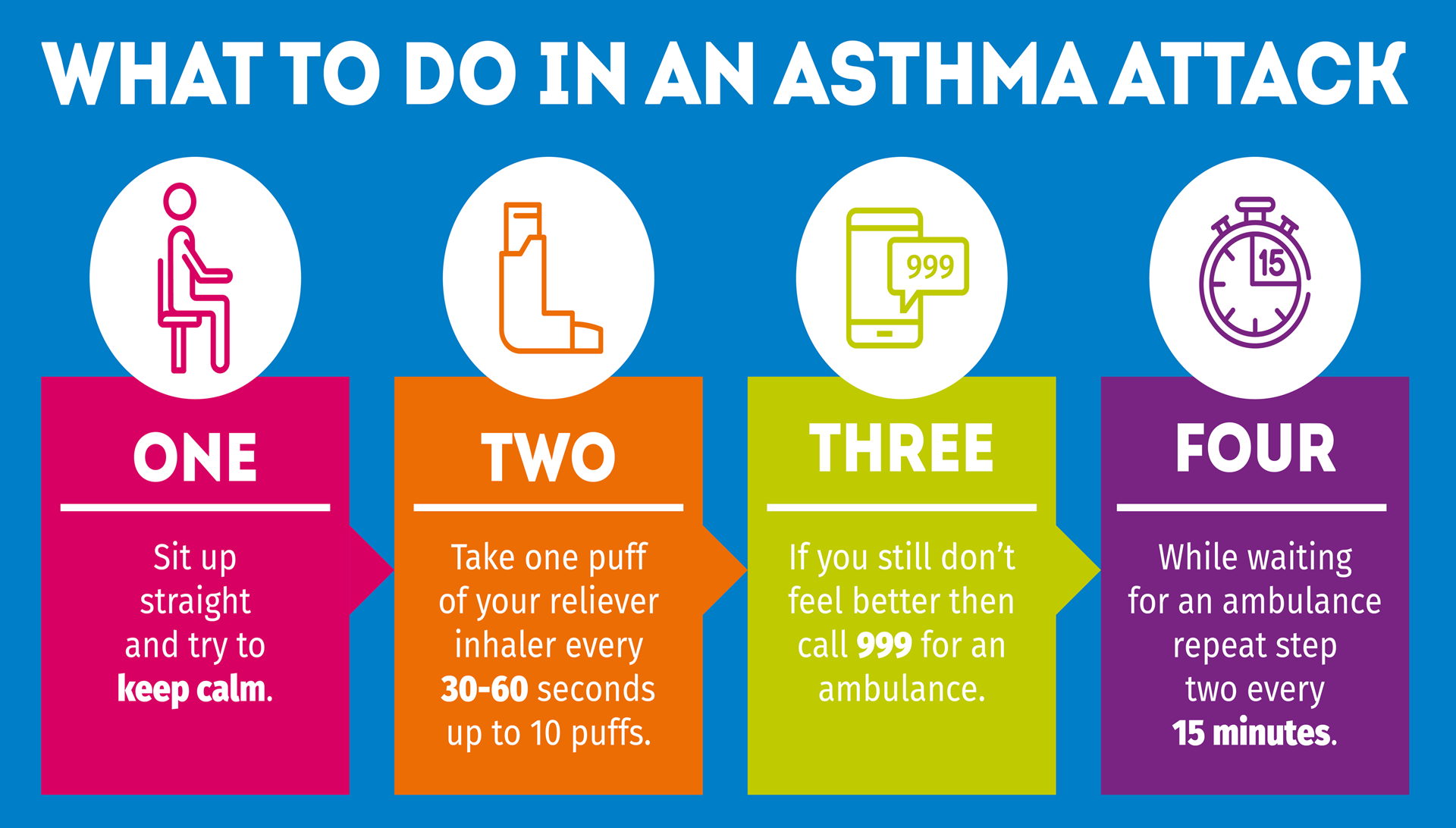 Asthma attack
An asthma attack is a medical emergency.
Use you reliever immediately, via a spacer.
Call for URGENT help by ringing 999.
Further information and useful links