Prostate Screening and PSA test
If you are well and have no symptoms, asking for a PSA blood test does require discussion or reading beforehand in order to make an informed decision; having a PSA test has potential harms and potential benefits.
There's currently no screening programme for prostate cancer in the UK (unlike cancers such as cervical and breast in women). This is because it has not yet been proved that the benefits would outweigh the risks.

The information on this leaflet should help you decide if you want to have the test or not. It is your decision.
What are the symptoms of prostate cancer?
Symptoms of prostate cancer can include:
needing to wee more frequently
needing to wee during the night
needing to rush to the toilet (called urgency)
difficulty in starting to pee (hesitancy)
straining or taking a long time while peeing
weak flow of urine and splitting/spraying of stream
feeling that your bladder has not emptied fully
If you have any of these symptoms, please make an appointment with a doctor at the practice.
Prostate Cancer
If your GP has urgently referred you to the hospital for your prostate
NUH are arranging urgent MRI scans for patients with concerning prostate symptoms. The hospital is now phoning patients to book an MRI appointment within 1 or 2 days of receiving the referral. Please read the patient information leaflet.
DadPad
Want quick and simple tips on how to care for your new baby?

The Nottinghamsgire #DadPad app is free and easy to use, with lots of helpful practical info for new parents.

Simply download the app and add your postcode for local support and service information
https://thedadpad.co.uk/app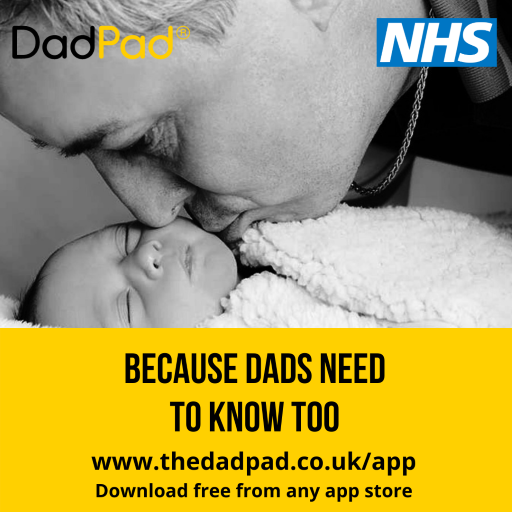 Sexual Health in Men
Symptoms to suggest a Sexually-Transmitted Infection can include:
an unusual discharge from the penis or anus
pain when weeing
lumps or skin growths around the genitals or bottom (anus)
a rash
itchiness, warts or blisters around the genitals or anus
warts in your mouth or throat
Where to get help:
NUH have clinics at the Genitourinary (GU) Medicine building at City Hospital, and Victoria Health Centre in the City Centre. They also run more than 20 community clinics at health centres, colleges and youth centres across Nottingham City and South Nottinghamshire.
They conduct sexual health screening, as well as assessment and treatment if you have symptoms.
To book an appointment at any of the clinics, please contact 01159 627 627.
Mon-Thu 8:30-7pm, Fri 8:30-5pm, Sat 10-2pm.
https://www.nuh.nhs.uk/sexual-health-clinics/city-hospital-1111/