If you are suffering from a mental health crisis, please call the CRISIS line on 0808 196 3779 - this is available 24/7.
If you are known to a psychiatric team, please ring them directly (usually the Hope Centre Duty team).
Nottinghamshire Mental Health helpline
Not sure what to do?
Unsure what you need?
Take the first step to feel better.
Call the Nottinghamshire Mental Health advice line on 0300 555 0730
It is open 9am-11pm, 7 days a week.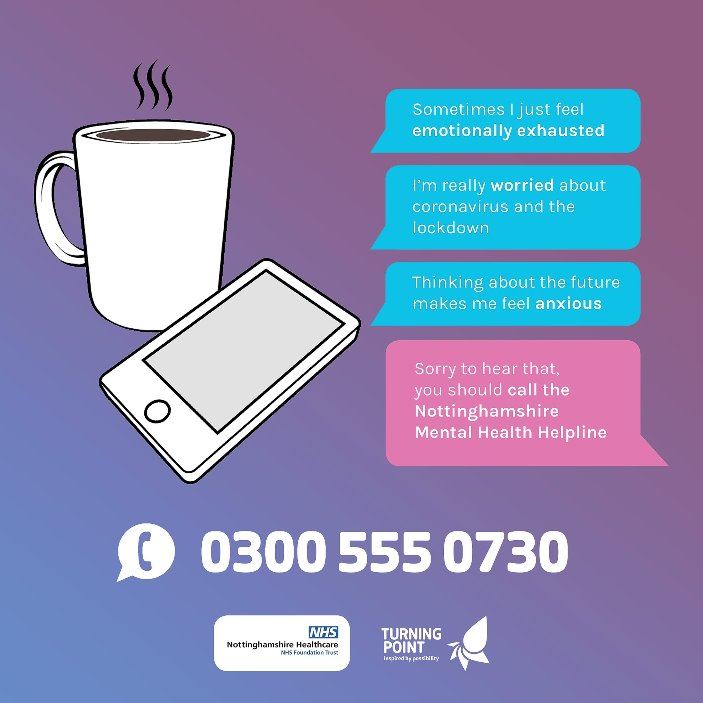 Refer for NHS counselling and therapy
Counselling has often been shown to be the most effective treatment for a host of psychological and mental health problems such as low mood, stress, depression, and anxiety.
The good news is, you can self refer for counselling & psychological therapies, free on the NHS, by contacting any of the three services below. You do not need to speak to your GP before doing so.
What is mental health?
Mental health includes our emotional, psychological, and social well-being.
It affects how we think, feel, and act.
It also helps determine how we handle stress, relate to others, and make choices.
Mental health is important at every stage of life, from childhood and adolescence through adulthood.
SHOUT 85258
Shout 85258 is a free, confidential, 24/7 text message service for anyone in need of support in the UK.
Their trained Shout Volunteers can help with issues including anxiety, depression, suicidal thoughts, relationship problems, sexuality, money worries.
Text SHOUT to 85258 to speak to a volunteer today.
SAM App - Anxiety Management on your Mobile
SAM is a friendly app that offers a range of self-help methods for people who are serious about learning to manage their anxiety.

SAM has been developed by a university team of psychologists, computer scientists and student users. Established methods of self-help have been combined with high standards of usability to provide an engaging, flexible, and practical resource.
Sleepio - help with sleep
Sleepio is an online sleep improvement programme, clinically proven to help you fall asleep faster, stay asleep through the night, and give you more energy during the day if you follow the programme correctly.
The programme is based on Cognitive Behavioural Therapy for insomnia (CBTi). You can use it to learn cognitive techniques to help tackle the racing mind and behavioural strategies to help reset sleeping patterns naturally, without relying on sleeping pills.
Useful links and information leaflets to download
Samaritans
Samaritans offer a safe place for you to talk any time you like, in your own way – about whatever's getting to you. You don't have to be suicidal. Call Samaritans free, 24 hours a day 365 days a year.
Email: jo@samaritans.org
Telephone: 116 123
Website: www.samaritans.org