Award Winning PPG
Many congratulations to all the patients and carers who form part of Torkard Hill Medical Centre Patient Participation Group (PPG).
At the September 2016 Nottingham North East Clinical Commissioning Group (CCG) AGM, our PPG received an award for the most innovative PPG.
This award was in response to our hard work in keeping our patients informed and engaged through our virtual PPG, newsletter and other forums and events.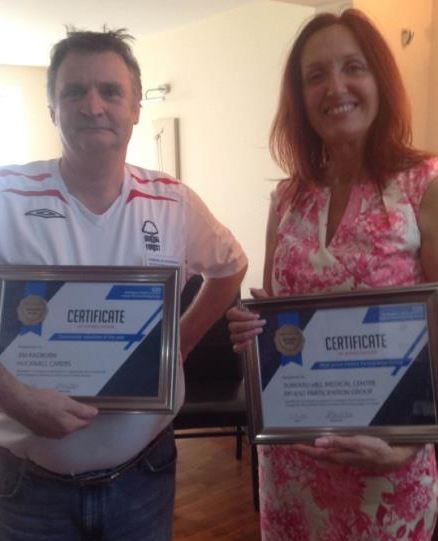 Engaging with the Community for Health & Wellbeing
This is the second time we have held a summer event in collaboration with local community groups. We were thrilled to receive such positive feedback from those who attended our Summer Health Fair in July 2017. With over 30 groups participating it was bigger and busier than before!
We would like to thank all of the stall holders and volunteers who came to explain the wide variety of services available in Hucknall for our patients. Most importantly we would like to thank all those who attended on the day and helped to raise almost £300 in charitable donations.
Caring for Carers
As a Practice we value our carers and the role they play in supporting those cared for. We offer a range of support and signposting for carers including dedicated Carers Champion, a carers register, signposting to wider support via the Carers Hub, carers health checks with our nursing team and bespoke carer focused events.
We have held a coffee morning, supported by a range of colleagues including the Carers Federation, Carers in Hucknall, our local Clinical Commissioning Group and Healthwatch Nottinghamshire. Carers were provided with a first aid workshop by The British Red Cross over coffee and cake.
The event was attended by 20 carers, feedback has been very positive and carer comments will help us plan future events.
More importantly feedback has influenced in how our staff deal with carer issues in a sensitive way.