Due to the rapidly changing picture of Covid, the information on this page will be regulary updated as guidelines change.
Last Updated 04/04/2022.
Covid 19 (Coronavirus)
What you need to do
If you have ANY of the following coronavirus symptoms:
Shortness of breath

Feeling tired or exhausted

An aching body

A headache

A sore throat

A blocked or runny nose

Loss of appetite

Diarrhoea

Feeling sick or being sick

Your GP or nurse advises you
You are advised to stay at home for 5 days.
Covid 19 treatment for those at highest risk
If you are in the HIGHEST risk group, you should have already been contacted by the NHS about what to do if you have covid.
Patients in this group include:
• Patients with a solid cancer
• Patients with a haematological disease and stem cell transplant recipients
• Patients with renal disease
• Patients with liver disease
• Patients with immune-mediated inflammatory disorders (IMID)
• Primary immune deficiencies
• Solid organ transplant recipient
• Rare neurological conditions
Please follow the instructions in your letter. The NHS should automatically contact you about assessing you for specialist treatment at the Queen's Medical Centre - if you have not, please contact the surgery ASAP (and within 5 days of feeling unwell).
PANORAMIC Study
Have you tested positive for COVID-19 and experiencing COVID-19 symptoms, starting in the last 5 days? The PANORAMIC Trial aims to find antiviral treatments to improve symptoms and reduce hospital admissions for people with COVID-19.
Eligibility for PANORAMIC study
• All patients aged 50 or over, OR
• Patients aged 18-49 with one of the following:
▪ Chronic respiratory disease (including chronic obstructive pulmonary disease (COPD), cystic fibrosis and asthma requiring at least daily use of preventative and/or reliever medication)
▪ Chronic heart or vascular disease
▪ Chronic kidney disease
▪ Chronic liver disease
▪ Chronic neurological disease (including dementia, stroke, epilepsy)
▪ Severe and profound learning disability
▪ Down's syndrome
▪ Diabetes mellitus (Type I or Type II)
▪ Immunosuppression: primary (e.g. Inherited immune disorders resulting from genetic mutations, usually present at birth and diagnosed in childhood) or Secondary due to disease or treatment (e.g. sickle cell, HIV, cancer, chemotherapy)
▪ Solid organ, bone marrow and stem cell transplant recipients
▪ Morbid obesity (BMI >35)
▪ Severe mental illness
▪ Care home resident
▪ Considered by recruiting clinician to be clinically vulnerable
Visit: www.panoramictrial.org/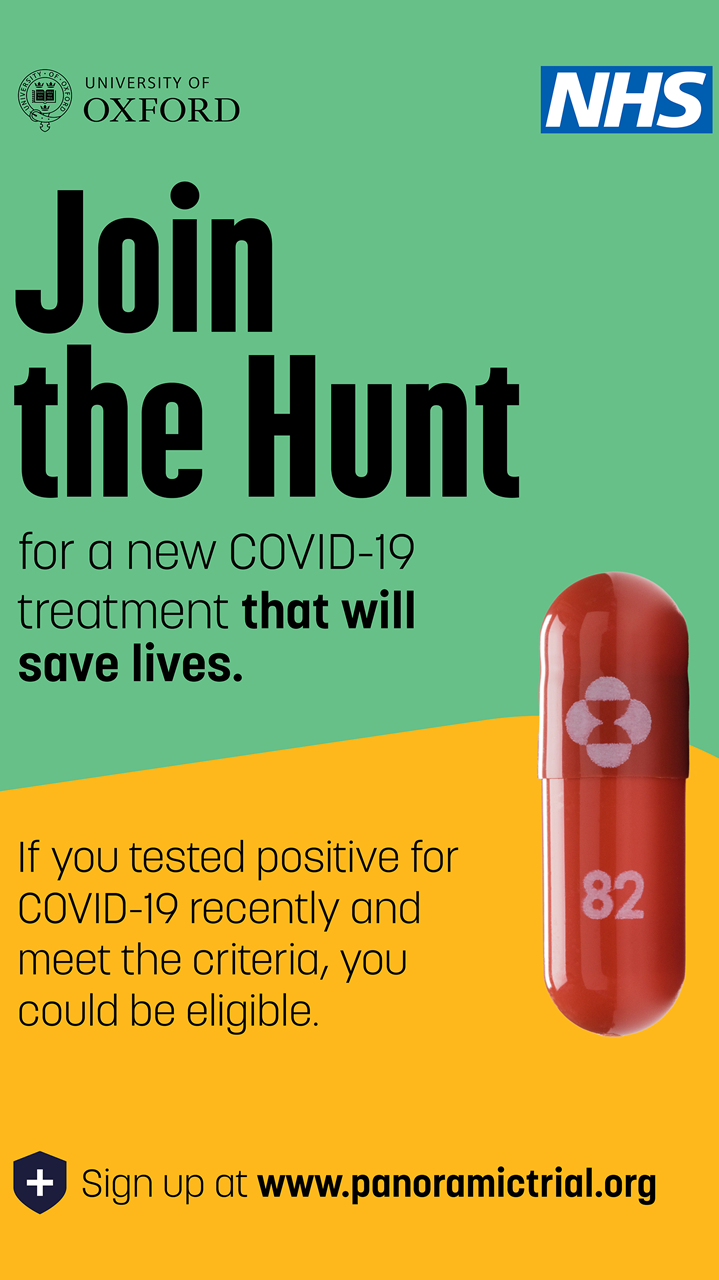 Covid 19 Frequently Asked Questions (FAQ)
Q: I have a cough but no fever or changes in smell or taste – it can't be Covid-19, can it?
A: The current guidelines are ANY of persistent cough OR fever OR change smell/taste. You do not have to have all three.
Q: Why do I have to stay at home? I feel fine otherwise!
A: Staying at home is the ONLY way to stop the spread, and avoid infecting others – some of whom may not be fortunate to be able to clear the virus themselves.
Q: Is there a cure for Coronavirus?
A: At present, there is no cure for the virus. Treatment is supportive until you clear the virus. Antibiotics don't treat viruses. The annual flu vaccine does not protect you from coronavirus. If you are in a risk group, you may need your oxygen levels monitoring, and may qualify for specialist treatment or trials (above).
Q: I have a number of health problems. My employer wants to know if I am at risk and what do I do with work?
A: It is your employer's responsibility, not your GP, to make any relevant work related risk assessment. Employers should refer you to their occupational health teams if they are unsure.
Q: How do you know if my cough is Covid-19? It feels like my asthma, flu or common cold!
A: It is very difficult to tell, in both adults and children, if your cough or fever is related to Covid-19 or something else. We appreciate the consequences of needing to isolate and the difficulties getting a test, and often we are hearing patients trying to persuade themselves it's something else - however the safest thing if unsure is to istay at home!
Q: I am medically exempt from wearing a face covering; do I need a letter from my GP?
A: You do NOT need a letter from your GP, and the practice will not be providing these. All the information about exemptions, including printing out your own cards, can be found at https://www.gov.uk/government/publications/face-coverings-when-to-wear-one-and-how-to-make-your-own/face-coverings-when-to-wear-one-and-how-to-make-your-own
Q: I have tested positive for Covid19 and have completed my isolation, but still feel unwell. What do I do?
A: We would ask you to ring the surgery so that the emergency doctor can speak to you about your ongoing symptoms. In addition, if you require further time off, we will also issue you with a sick note.
Q: I have covid infection but am due my vaccine, what should I do?
A: We recommend at least 28 days after the onset of your symptoms, before having your Covid vaccination.
Q: I am under the hospital, and due to Covid19, my appointments, tests and procedures have been cancelled. I am unhappy, what can I do?
A: We would ask you to first discuss your concerns with your responsible doctor at the hospital; you can contact them via their secretaries, and the details can be found on your clinic letters. If you do not feel your concerns have been answered, you may speak to the Patient Advice and Liaison Service (PALS) - each hospital has these and can be reached via the hospital switchboards. We do appreciate that the NHS has had to make incredibly difficult decisions during this pandemic, and only the hospital can prioritise your case where clinically necessary.
Supporting your recovery after COVID-19
The symptoms of Covid19 may continue some time after your isolation period ends. If you continue to feel unwell, please ring us.
It may be helpful to monitor your temperature, oxygen levels, and hydration.
The NHS Covid19 Recovery website has some excellent information on the effects of the virus, both on body and mind, and how you can feel better:
Oxygen monitoring @ home
If you currently have covid infection, and are over 65, or clinically extremely vulnerable (shielding), we may ask you to monitor your oxygen levels every day for the first 2 weeks of your illness. This is so that we can pick up any early signs of deterioration and severe illness that may require admission to hospital.
The video shows you how to check your oxygen levels using a pulse oximeter.
We will advise you what oxygen levels are acceptable for your medical history, and who to contact should oxygen levels fall.
Patient info leaflet: Home Oximetry Covid
The practice will contact you with further details.
Virtual & Remote Consultations
We, along with every NHS service, have had to adapt during the Covid pandemic.
To keep everyone safe, we have had to change the way we work, with a combination of face to face, and non face to face, appointments.
To help us safely and accurately assess your problem, we use a system by AccuRx.
You can find more information about this at our dedicate information page Virtual Consultations
If you have an appointment to see a doctor in the "Isolation Room"
If you have an appointment to see a doctor or nurse, with possible Covid19 symptoms, you will be seen in the isolation room. Please do not use the main entrance.
If driving, please park in one of the 2 allocated bays in the staff car park.
Please wear a face covering and ensure social distancing.
The doctor or nurse, when ready, will ring on your mobile phone.
When ready to be seen, please walk to the isolation room entrance, which is a short walk further into the staff car park. A picture of the entrance is below:
Mental Health during Covid 19
It's okay to not be okay. Please don't struggle alone.
Call the Nottinghamshire Mental Health advice line on 0300 555 0730, 9am-11pm, 7 days a week.
In a mental health crisis? Please call 0808 196 3779 available 24/7.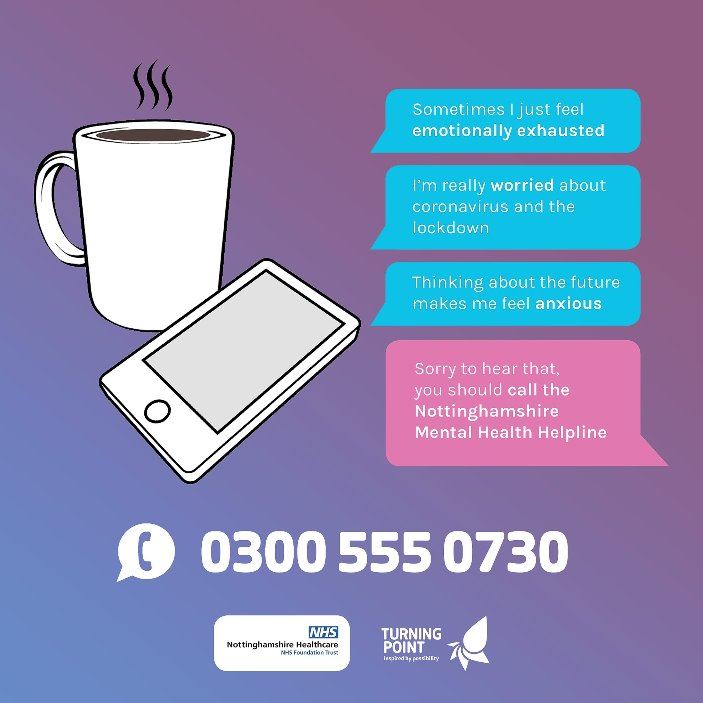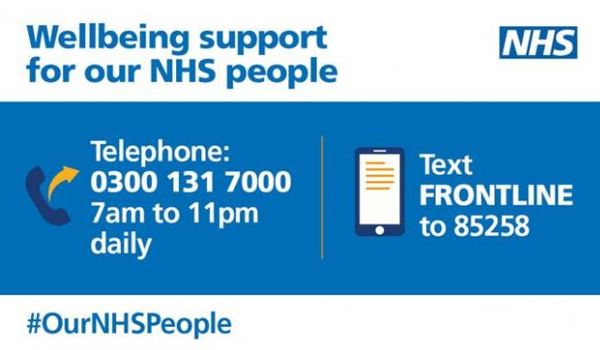 Our NHS People
We know some of our patients work within the NHS. There is specific support for frontline NHS staff at Our NHS People.
Take a look: https://people.nhs.uk/